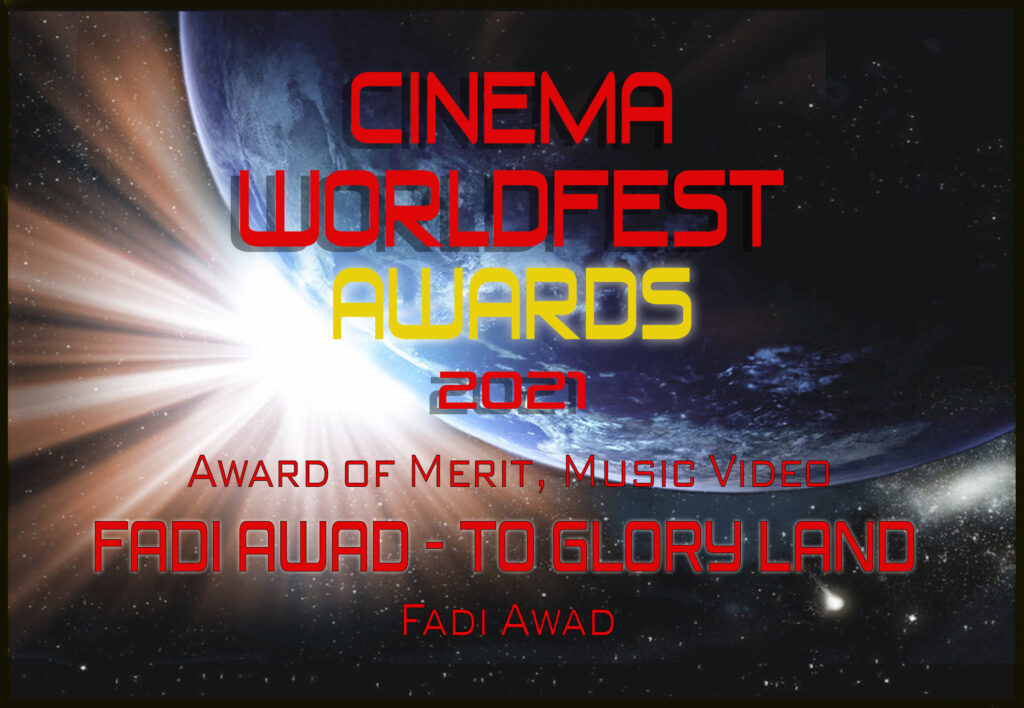 After winning in many valuable National, International, and InterContinental Contests and Festivals, here is The Multi-Awards Winner and The Billboard and Multi-Charted artist Fadi Awad doing it again and winning this time, in the results that were announced from Los Angeles-California on the 25th of April 2021,"The Award Of Merit" in The Cinema Worldfest Awards, for his music video "To Glory Land"!
In a Zoom interview today with Jimmy Hallowey, one of the top managers and experts in the history of music and film Industries, Jimmy gave good feedback about many artists, including Fadi Awad, considering him to be very loyal to who evaluates him and to where he's appreciated, as well as an international champion, a real hero, a legendary artist because all his achievements were done Independently without any sponsorship, and a wonderful person!
This is the 9th Award for this Fadi's masterpiece "To Glory Land" after winning in: "The 5 Continents International Film Festival", "Palermo's Eurovision Film Festival", "American Golden Picture International Film Festival", The "Kyiv Film Festival", The "One-Reeler" Short Film Competition, "Austria International Film Festival", "The Intercontinental Music Awards", and "The Hollywood Boulevard Film Festival."
In his related Press Interview on "Kiss Fm 102.5", Fadi thanked the Festival's Organizers, Judges, and Crew for the appreciation, as well as his supporters for their continuous appreciated support, and added: "Los Angeles and California are always special to me. I feel proud and humble at the same time to have won there in that very important contest where the competition was really high!… Our world needs peace and love these days more than ever, hoping that the situation gets back to normal as soon as possible."
Congratulations to Fadi Awad on this new well-deserved important achievement, wishing him the best of success all the way!
Follow Fadi Awad's News & Updates: https://www.facebook.com/ArtistFadiAwad/