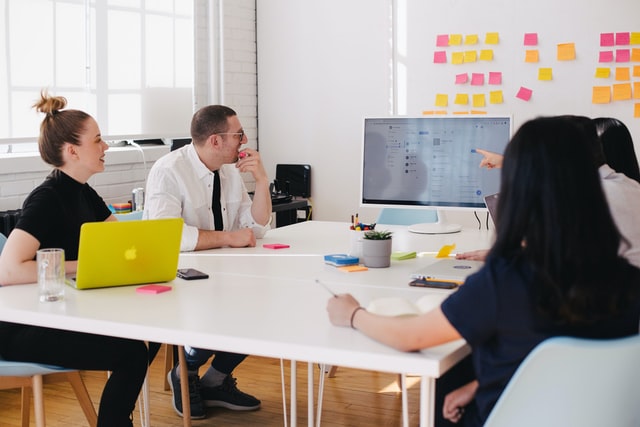 You saw the movie, "The Social Network". Mark Zuckerberg uses a window-pane as a dry-erase board to work out a few equations, does some coding for a few hours, meets Sean Parker (portrayed by Justin Timberlake), and then he becomes a billionaire. This is not the norm. This is not going to work the same way for everyone.
There are so many people who want to head straight for the glory and the riches of being a successful startup founder. Unfortunately, many people equate being an entrepreneur with fame and riches. However, it is important to know that success is more than having the willingness to want something. You have to work smart and hard; you also have to know that there will be obstacles along with way.
On The Road To A Career
Success is not just a matter of aspiration. Success is an entire process: You have to roll up your sleeves and get to work. You will have to push yourself to do anything and everything to reach that level of success you are aiming for. Attempt projects that interest you and learn from. Gain as much information as you can, find any flaws and fix them, and learn how to create value. Develop your potential and learn how to utilize what you have.
Before you attempt to launch a startup because it is something you want to do and something you can do, you will need to have a plan. While you are on the road to your career, you will need to explore, learn, and create something that people will want. Maximize your learning while you are on the road to your career, and you will uncover greatness.
You're Never Too Old To Learn
We may think once we reach a certain age that there is not much else we can learn about the world or people. If you want to become a start-up founder and you have no prior work experience, do you know what can help you gain that experience? A teacher. Someone who has actually been in your shoes and understands your dreams and goals. There is nothing wrong with asking someone to help you reach your goals.
The best professionals are those who give back after they find success. Those who have been in your position understand how important leadership and guidance are for the next person. Gather information from someone who has the knowledge and experience you are trying to obtain. While you gain insight and knowledge from others, you can develop your own insight and knowledge along the way.
We wanted to hear the experiences of people who have created or grown tech startups in Canada, specifically surrounding the obstacles that they faced within the Canadian startup ecosystem. What was their experience like? Was it an easy journey or a difficult journey? What did we find out?
Tektonic Inc.
Tektonic began in 1997 as a shell account and email hosting company. Today, Tektonic is a global company, servicing more than 5,000 clients. We asked Tektonic Partner, Jorge Rojas, to share some obstacles he faced while creating Tektonic Inc., he shared this with us:
"We never had a struggle per se. The company was easily opened, and we all went from there. The struggle was like any other business, getting customers. Not problems creating the business."
CTECH Consulting Group
CTECH Consulting Group was founded in 2000. CTECH Consulting Group is an information technology consulting company located in Calgary. Carl Fransen, CEO and Founder shared his experience with starting CTECH in Canada:
"As a technical entrepreneur, the biggest challenge I encountered was gaining the abilities to do marketing, sales, and finance while I was making money doing the technical work. I had to walk a very fine line between working in my business making money to support my family and working on my business to keep everything running. Even though I had dual major in business and tech, it was difficult to not focus more on what I was really good at, being a tech, over what I needed to do such as bring in more clients through sales and marketing. One was needed to survive, while the other was needed to grow."
403 Tech
403 Tech, founded in 2011, provides computer support and services in Calgary. We asked Scott Gallupe, President of 403 Tech to share his experience with creating 403 Tech, and this is what Gallupe shared with us:
"Starting a business isn't easy. From payroll, to marketing, to sales, you wear a lot of hats in a day. True leaders are good at realizing they cannot be all and do all and know when to delegate a task. It allows them to free up their time for more important tasks.
Having grown my business from 0 employees to now over 7 I can tell you I have had my sheer amount of trials and tribulations. Keeping my employees happy, keeping my clients happy, and trying to keep myself happy are all major hurdles I faced in a day. But, by being a tech startup we were able to leverage some cool technology to help us with our efficiencies and help speed things along. We try to be on the cutting edge of tech so when our customers come to us we are able to provide them with viable solutions for their problems.
One other great resource of being a tech company in Canada is being able to network and leverage other tech companies to bounce ideas, ask questions and grow meaningful relations with people that have all talked the talk and walked the walk before you."
The creation of a start-up will develop in phases. Some phases may seem easier than others, and at times you may have to start over. Start-ups have proven to be incredible platforms for learning and developing. Develop your skills, learn to be a leader, and learn how to work with other great leaders. Create the best start-up you can and make a difference in the world.
Ulistic LP
Ulistic LP is a leading marketing agency specializing in digital marketing, business development, and sales enablement for IT service companies. Our insights, experience, and research point our clients in the right direction on the issues that matter most. To learn more about how we help IT companies, visit ulistic.com.