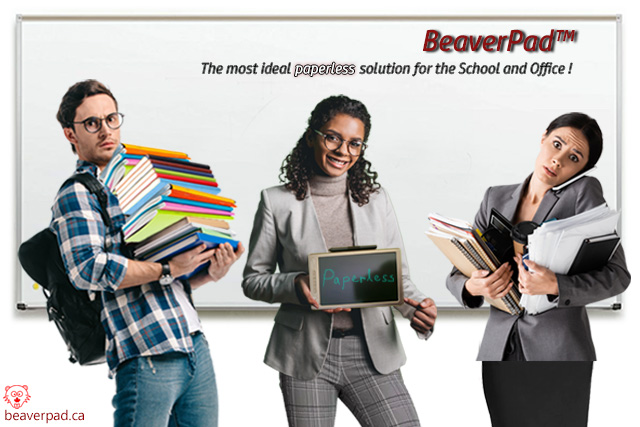 LCD (Liquid Crystal Display) Writing Tablets, also known as eWriters or LCD Drawing Boards have been used as a paperless writing solution for nearly a decade. Despite its widespread popularity, most producers have failed to respond to the market's need for continuous innovation – most LCD writing pads available in the market offer little to no smart features. In this article, we are going to review The BeaverPad™ – a smart LCD Writing Tablet that addresses many user problems overlooked by other brands.
Most LCD writing tablets available in the market comes with a quick-erase function and sometimes an Erase Lock function. The erase function allows users to quickly erase their writing and get a new blank page while the lock function prevents any unintended or accidental erase. While these two features have proven enough to gain popularity among children and parents as a toy item, without more advanced features, the standard LCD writing tablets have vastly failed to establish as a serious product for adults, an office essential, a productivity enhancing tool for the home, or a must have device for the students in school. A Canadian company called BeaverPad™ Canada has taken the brave initiative to address this gap in the market with their introduction of The BeaverPad™ – a smart LCD writing tablet that offers many advanced features including Save, Sync, Bluetooth, and built-in Memory, along with the quick-erase and erase lock functions that can be found in other standard LCD writing boards.
Features of The BeaverPad™
Energy Efficient:
The BeaverPad™ runs on a rechargeable CR2016 battery that can be used for a continuous 50 hours per charge.
Built-in Memory:
Unlike other generic LCD writing tablets, The BeaverPad™ comes with its own built-in memory for saving your notes or drawings.
Offline Save Function:
The BeaverPad™ is a smart LCD writing device that has a save function that allows you to save your notes offline within the device's memory without being connected to any other devices.
Bluetooth and USB connection:
The BeaverPad™ is packed with Bluetooth and USB connections that allow the device to connect to smartphones/ tablet computers (Android and iOS), and desktop/laptop computers (macOS and Windows) respectively.
Live Synchronization:
The Bluetooth and USB connections allow users to synchronize their work directly from The BeaverPad™ to their smartphones, tablet computers or desktop/laptop computers in real time.
File Transfer:
Using the Bluetooth connection, users can easily transfer their work saved in The BeaverPad™ to any Android/iOS devices. Paired with the save feature – this is a very useful function as you can save hundreds of pages of notes within the BeaverPad™'s memory and transfer them to other devices at your own convenience.
Perfect Palm Rejection:
Unlike other generic LCD writing devices, The BeaverPad™'s writing mechanism offers perfect palm rejection while writing. That means, when you write on the BeaverPad™'s screen, there won't be any residue or unwanted marks caused by palm pressure. The BeaverPad™ will only register marks as a result of the pressure applied by its equipped stylus pen.
Paper-Like Writing Experience:
The smooth surface of the BeaverPad™'s screen gives a very paper-like writing experience. So, if you are skeptical about giving up your old pen and paper, if you are reluctant to compromise on the purity of your writing experience, you can rest assure that you will never miss paper while using the BeaverPad™.
Zero Eye Strain:
Unlike other backlit screens used on computer monitors, tablet computers, or smartphones, The BeaverPad™'s screen does not require any front or back lights – this allows you to use The BeaverPad™™ for long hours without any digital eye strains.
Highly Affordable:
Compared to other paper alternative writing solutions, such as, e-ink devices, touch screen computers, or any Android or iOS devices, The BeaverPad™ is significantly more affordable.
Countless Supply of Pages:
The Save/Erase function gives users up to 100,000 new blank pages over the lifespan of the BeaverPad™. This will allow you to minimize paper consumption significantly at work, home, or school and save lots of trees.
BeaverPad™ in comparison with other LCD Writing Tablets:
As the features suggest, BeaverPad™ definitely stands out among other generic LCD writing tablets in the market. It is very compact and easily fits into your backpack, while its lightweight makes it easy to carry wherever you go – bringing your BeaverPad™ with you when you go for a walk won't feel like a hassle at all. The build quality also feels better in hand when compared with other cheaper products in the market.
BeaverPad™ in comparison with other Paperless Writing Solutions:
While The BeaverPad™ remains highly distinguishable among other LCD writing tablets, it is not the most advanced gadget to offer paperless writing solutions. A customer looking for a paperless writing device could will find a number of different options, including tablet computers (handheld Android or iOS devices), e-ink tablets, or touch-screen laptops – all of which do a very good job in providing a decent writing experience. However, when price factors are taken into account, BeaverPad™ will gain another point. For example, a handheld Android tablet with decent touch sensitivity starts from US$230 (CA$300), and the cheapest iPad is priced at US$500 (CA650) as of mid 2022. E-ink writing devices or stylus-equipped touchscreen laptops also ranges from US400 (CA$500) onwards. The BeaverPad™, in comparison, is currently on sale for at US$79 (CA$99) in the company's website, making it the most affordable smart writing device to offer a paperless writing solution.
The Pro's:
The main pros of this device are its exclusive features – Save button, built-in memory, Bluetooth connectivity, Synchronization, File transfer option that cannot be found in other LCD writing tablets. It is also highly energy efficient, hence, it's also a good choice for those who highly concerned about the impact of personal consumption on the environment.
The Cons:
While it is quite unmatchable among LCD writing tablets, it does lack many features found in more advanced writing devices, such as Android computers, or e-ink writing devices. But BeaverPad™ Canada has not marketed this device as a tablet computer, and at a significantly more affordable price point, it doesn't really make sense to compare its specs and features with the more expensive e-ink tablets or tablet computers. The only real drawback of the BeaverPad™ could be its choice of USB connection – it stills uses the micro-USB port, which is pretty outdated if not obsolete.
Conclusion:
At this price point, The BeaverPad™ will offer a lot of value for your money, as you'll be enjoying a lot of benefits without much risks or financial burden. If you are looking for a paperless writing solution that is packed with many features but does not cost a fortune, BeaverPad™ is definitely a right choice for you.