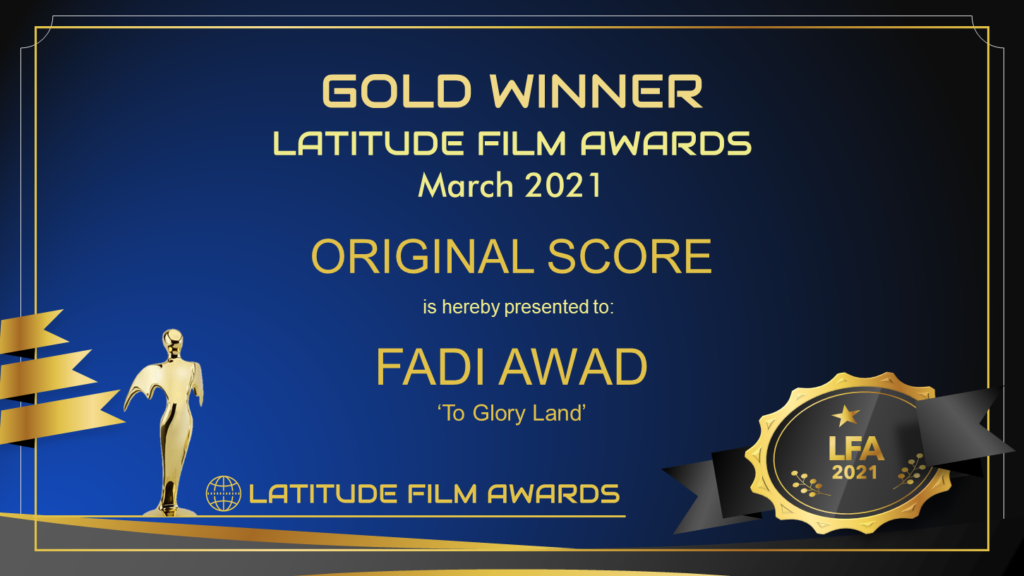 On the 28 of April 2021, the results of the Latitude Film Awards for March Session were announced from London-England, UK. Among the Winners' names, it was so good to see The Multi-Awards Winner and The Billboard and Multi-Charted Artist Fadi Awad winning The Gold Award with his Original Score Masterpiece "To Glory Land"!
This is the 10th Award for this Fadi's music track after winning in: "The 5 Continents International Film Festival", "Palermo's Eurovision Film Festival", "American Golden Picture International Film Festival", The "Kyiv Film Festival", The "One-Reeler" Short Film Competition, "Austria International Film Festival", "The Intercontinental Music Awards", "The Hollywood Boulevard Film Festival" and "The Cinema Worldfest Awards."
In his related Press Interview, Fadi thanked the Festival's Organizers, Judges, and Crew for the appreciation, as well as his supporters for their continuous appreciated support, and added: "Generally speaking, UK is very special to me, and I truly love it… I feel proud and humble at the same time to have won in that important event!… Sending Peace and Love to Everyone, hoping that the situation gets back to normal as soon as possible."
Congratulations to Fadi Awad on this new well-deserved important achievement, wishing him the best of success all the way!
Follow Fadi Awad's News & Updates: https://www.facebook.com/ArtistFadiAwad/