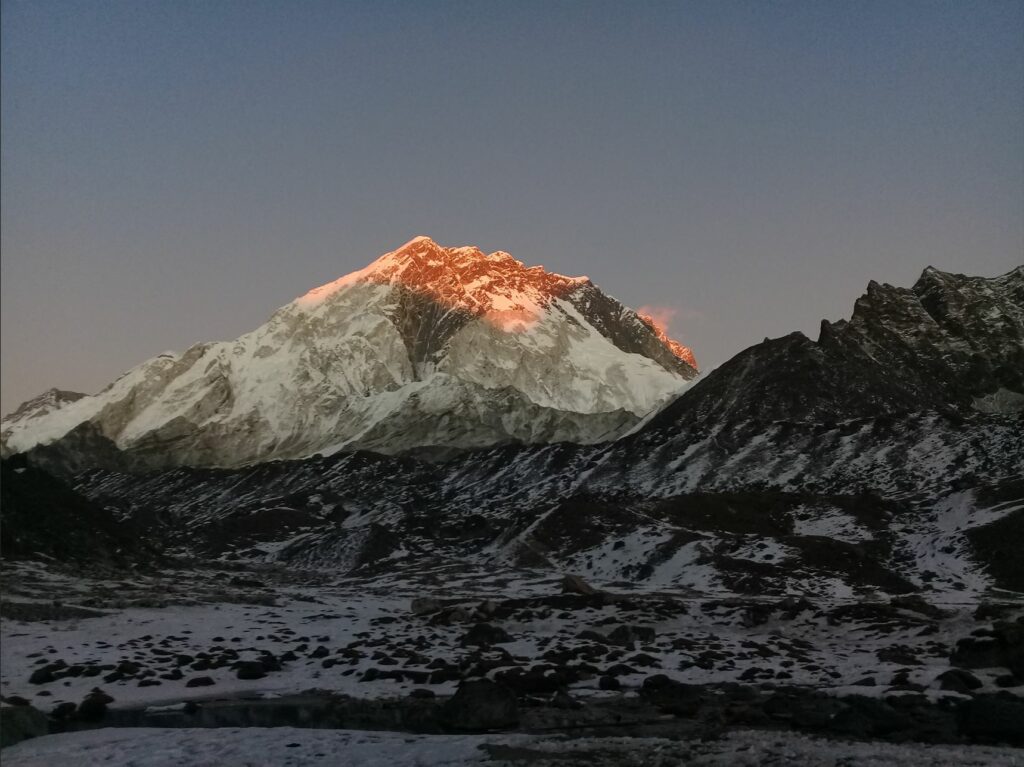 The Everest Base Camp Trek is the most exciting and difficult journey you will ever undertake. Because Mt. Everest is the world's highest peak, there's no denying that walking to its base camp provides an once-in-a-lifetime experience. You'll pass through dense green woods, rivers, waterfalls, terraced slopes, Buddhist towns, stupas, lonely communities, and more on your approach to Everest Base Camp Trek.
The Everest Base Camp Trek has several highlights and we have identified the top 7 attractions of this journey.
1. Lukla Airport
You've probably heard that Lukla Airport is one of the world's most dangerous airports. The Lukla hamlet is surrounded by high hills on all sides, making it difficult to operate a plane while taking off and landing. At Lukla Airport, the weather is always changing. As a result, only pilots with at least 7 years of experience can fly a plane at Lukla Airport. This flight will provide breathtaking views of the Himalayas, including Langtang and Everest. Lukla is reached after a 35-minute flight from Kathmandu.
2. Sagarmatha National Park
Trekking to Everest Base Camp basically means exploring the Sagarmatha National Park. Indeed, Sagarmatha National Park was one of the first sites to be included on the World Heritage List, and it continues to be a worldwide recognized area of breathtaking beauty. It has blue sheep, yaks, snow leopards, and a variety of other animals. Sagarmatha National Park stands out from other national parks across the world because of its unique plants and animals. Also, Sagarmatha National Park is widely known as the national park located at the maximum altitude in the world.
3. Namche Bazaar
The star highlight of Everest Base Camp Trek is Namche Bazaar, where trekkers acclimate. During acclimatization in Namche, they can visit the Tibetan market, the Sherpa Cultural Museum, the lovely Namche Bazar hamlet, and trek up to Hotel Everest View for a breathtaking view of Khumjung village and the surrounding mountains, including Mt. Everest. This acclimation is made easier by the availability of internet, Wi-Fi, and comfortable restaurants and accommodations.
4. Tengboche Monastery
Tengboche Monastery is an ancient monastery in the Everest region, with its own wonderful environment in Everest Base Camp Trekking. The monastery is situated in the peaceful village of Tengboche. The monastery provides us with a panoramic view of the Sagarmatha National Park. It's a delightful site for close-up views of Ama Dablam, the world's most beautiful mountain. It has not the only view of Ama Dablam; it also has several more nearby peaks with spectacular views. Tengboche's existence calms and relaxes us.
5. Sherpa people and their Culture
The Sherpa people, sometimes known as mountaineers, live in the Everest region. They are culturally and traditionally wealthy. Buddhism is the most popular religion among these people. These people are sweet yet shy and offer great hospitability to tourists. Their amazing rituals, rites, and festivals are worth observing. At the same time, getting a glimpse of Sherpa people's fresh and healthy foods is like having a cherry on the cake.
6. Panoramic Mountain Views
Kalapathar (5545 m) is a stunning vantage point on the Everest Base Camp Trek. Kalapatthar is where trekkers get to experience beautiful views of Everest, Nuptse, Changtse, Lhotse, Pumori, and Ama Dablam. Early morning or late evening hikes to Kalapatthar are popular because of the sunrise and sunset vistas of the Himalayas.
7. Hillary Museum
Another basic landmark of the Everest Base Camp Trek is a Hillary Museum. The Hillary Museum is located in Namche Bazaar in the Everest Region. It is the Everest region's oldest museum, and it is named to honor Sir Edmund Hillary. Traditional Sherpa lifestyles, culture, clothes, utensils, art and architecture, gears and equipment, and many other things are displayed in this museum. This museum is fascinating since it displays old images acquired from the local Sherpa population, as well as the Sherpa style of life in the past.
Are you dreaming of hiking the Everest Base Camp? Then why not consider the Nepal Hiking Team, which has always excelled at identifying the highlights of popular vacation destinations in Nepal since it has been in this business for over ten years. It also understands aspects of trip destinations, such as weather, temperature, culture, geography, and so on.