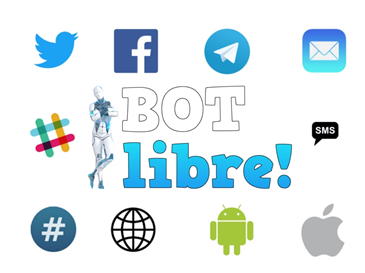 What it's actually about?
With the rising technological advancements, Chatbot is the new sensation that has been disrupting industries. Chatbots can be called as the prodigy child of AI that has been quipping almost all sectors and industries with efficiency by taking over the monotonous and tedious tasks. Chatbots are robots that work on online platforms helping interaction over messaging platforms and other mediums of online textual communication. Chatbots have already taken over the medical, social media and the corporate sector and AI specialists believe that soon Chatbots can also take over the education sector. And getting a chatbot is now not that expensive to have as there are many open-source platforms like Bot Libre that will bestow efficiency to the prevalent teaching system.
But a Bot cannot actually renovate and revitalize the present education system?
How Chatbots are transforming education!
Chatbots might be a tough cookie to crack for adults, but for the new-gen kids who are born while embracing the technology, Chatbots are easy to inculcate in their lifestyle. Chatbots currently are not introduced with the motive to replace teachers or educators, but they are introduced to assist them to help students out of tough corners and also to reduce the ever-growing burden of repetitive tasks on educators. With the increase in competitiveness in education, your child needs to be aware of all the basics and also be well versed with the advanced skills and chatbots will impart that knowledge to your child while making it fun by taking in the diversity of their interests.
Read further to see how chatbot will revamp and metamorphize the present education system!
Here's How:
Chatbots might come across as better knowledge imparters for your child and here's how Chatbots assure their authenticity:
1. Enhanced Student engagement:
Students are already well acclimatized to messaging and being active on online platforms and the introduction of chatbots in the education sector will render enormous benefits to children. They'll have the option to communicate better with teachers and fellow peers and understand tough concepts more efficiently in a smaller time span enhancing their total learning process. Chatbots were created with the concept in mind to help teachers and students have an easier platform to post messages and clear doubts, and helping teachers communicate with students. Chatbots act as the virtual guide for students that'd remind them of due dates, their assignments, and also clear their doubts.
2. Smart & Secure Feedbacks:
Chatbots act as the virtual assistants that act as the connecting medium between the teachers and students helping them communicate effectively through a secure platform. It also helps increase the proximity and efficiency of both teachers and students by allowing the other group to give honest reviews and feedbacks so that both teachers and students can implement the necessary corrections to achieve better results. Chatbots are the smart AI feature that also resolves the issue of time, as it provides relevant information in a jiffy helping both students and teachers.
3. Efficient Teaching assistants:
Teachers are at times overburdened with repetitive tasks that lead to redundancy in the more important projects. And students, on the other hand, become a victim of procrastination with the absence of their teachers. Chatbots are the virtual teaching assistants that'd help solve both these major issues. With their omnipresence, they help students out with their doubts without giving them the moment of distraction. And they are also are helpful aids when it comes to relieving the burden of the teachers with their tasks. With their instant assistance and accuracy, they enable both students and teachers to increase their efficiency for important projects.
4. 24*7 Assistance:
Chatbots are the ever-present guide that's always on standby to help both teachers and students. This attribute of chatbots of being available 24*7 helps the student stay better focused on current topics and also encourage them to take over difficult academic endeavors which they shied away from earlier. With the introduction chatbots in the education sector, even teachers will have a peer to rely on when in doubt and it'll also ease some stress off the shoulders of the teachers by handling repetitive and boring tasks letting the teachers work on more important tasks. Chatbots can be understood as teacher's aid rather than their replacement.
5. Always energetic and impartial:
Unlike humans, chatbots never get tired, bored or lethargic therefore they can handle the student's doubts with prowess as they are incapable of getting irritated therefore help the student have the confidence to ask questions multiple times without hesitations. A chatbot is always available to solve doubts increasing the efficiency of students and helping their concept grasping skills as they don't have to wait for long periods of time to resolve their doubts. Another major benefit of having a chatbot in the education sector is that its unbiased with the review, feedbacks and exam scores.
6. Wider reach to students:
Teachers are humans therefore unlike AI, they can't spread their teachings across the world for a diversity of students. But chatbots make it possible for teachers to find a wider audience of students across the world as chatbots are proficient in many languages that'll help teachers break down the set barriers put forth by language and spread knowledge. Chatbots also help quell out the rudimentary education system and its physical barriers and elevates the level of education to a more virtual level that'll help teachers broaden their horizons of teaching and also help students to get immediate knowledge and clearing out doubts for tough areas quickly and efficiently.
7. Personalized learning:
Chatbots make learning fun for children as they customize the learning methods as per the needs and the personality of the student. Chatbots also give individual attention to every student that a human teacher can't provide. It efficiently and accurately delivers the lesson also helping clear the doubts of students immediately. Unlike humans, Chatbots never get tired or irritated therefore can repeat the same concept to a student in various ways to help them solve their areas of doubt. It also brings out innovative ways of teaching a concept that helps teachers to grab the attention of students in class and also helps students to easily grasp the concept in an entertaining method.
There are plenty of open-source chatbots in the market like bot libre that'll help maneuver the education industry ensuring a smooth transition into the world of AI and chatbots. Now that you have understood the significance of chatbots and the growing significance of it in the education sector, you should invest in it now!